Window Film
Protect, control and brighten up your windows.
Our range of window film
Protect, control and brighten up your windows
What CoolGlass can do for you.​
Here in the UK, we are catching up quickly when it comes to window film. 
These great innovations provide huge benefits to any home or office. Whether you are looking for added security or lower energy bills, window film is the solution.
Recommended by professionals​

Building engineers and architects are known to recommend window film strongly, particularly in instances where solar heat gain methods haven't worked. They are also a great way to add privacy to a home or office without adding anything structural.

Fits any window​

No matter what size or shape your window is, we can easily fit window film. Reducing the amount of waste associated with the manufacture of new glazing systems. Another benefit for the environment.

Energy saving​

Are you looking to reduce your carbon footprint? Window films are a cost-effective way to reduce CO2 emissions from your home or office.

We use Solar Gard® films, which are internationally recognised by the American Clinton Climate Initiative as a key resource for saving energy.
Find your perfect window film
Request a no-obligation consultation or quote to find your ideal window film at your convenience.
Testimonials
"I am amazed at the difference the product has made to my room it actually looks as if we have new windows. We can sit in our lounge without the blinds closed. I am now in the process of getting a quote for my conservatory."
Mr and Mrs Nicolson​, Lincoln
"Mark, we found the whole service exemplary from start to finish. the product has reduced both glare and heat coming into our orangery and we are delighted with the results. Many thanks to you and your team."
Mr and Mrs Grandidge, Market Harborough​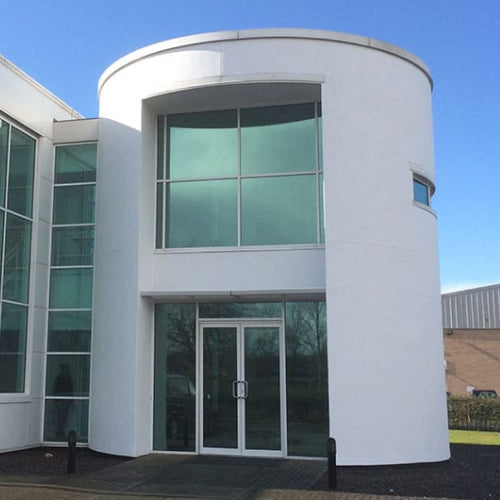 So what can window film do?
Our films can cool or warm your rooms, keep you secure, prevent UV and fade damage.
Window film can provide a multitude of benefits, from reducing solar heat gain to decreasing the load on air conditioning systems. It is particularly useful during the summer months as window film can help with cooling your home or office, resulting in a massive 30% drop in running costs and power consumption. An easy way to save on your energy bills!
During the summer months, window films can act as an ultraviolet filter. With a 99% reduction in the amount of UVA and UVB rays filtering through to your home. Not only does window film add a layer of protection against cancer, it can extend the life of your home furnishings. No more faded sofas underneath the window!
Don't just take our word for it, window film is recommended by the Skin Cancer Foundation.
Approved SolarGard® Dealer​
CoolGlass are proudly the only approved SolarGard® dealer in Lincolnshire. We also supply the new Ecolux® film, which is proven to provide a huge 41% reduction in heat loss in winter, and a 44% reduction in heat gain during summer. With incredible light transmission properties, you won't notice the window film at all, and your views will remain the same. 
Perfect for all seasons.
Various shades and colours​

Your new window film can be fitted in almost any shade or colour you want. It allows natural daylight to fill the room, and still provides a clear view out across the landscape.

Extended warranties​

Solar Gard® window film comes with manufacturer warranties up to 16 years. Over its useful life, Solar Gard window film saves 1001 times as much greenhouse gas emissions as were emited during its manufacture.

Improved glass safety​

Window film has another useful property – strength. Not only can it increase the break-strength of glass, it also holds fragments of broken glass together when smashed. This greatly reduces the chance of injury from glass.

Proven by the test of time​

Window film has been used and manufactured for over 50 years, and has been made by the experts at SolarGard® for more than 30 of those years. It's a brand you can truly rely on.